1958
After three successful years with Ferguson in Whangarei, Abbey Jones received a phone call from the General Manager of the importing company. The conversation went like this "We are looking for a dealer in Invercargill, they tell me you have a business there, are you interested?" Abbey's response was "Our premises are quite inadequate. Our present Manager would not be able to cope. We have no money. But yes, I am interested." So in 1958 Abbey joined forces with one of the leading lights in the motor industry, Jack Johnstone, and JJ Limited was born.
1960's
JJ Ltd shifted into its new purpose built building at 260 Dee Street, Invercargill. The Gore branch was established and after three years in rented premises shifted into its new building in Lyne Street. Both Invercargill and Gore branches still occupy their same premises today. JJ Ltd Invercargill entered into the motor industry and five years later formed a new company, JJ Motors Limited, to separate the cars and caravans from the tractors and farm machinery.
1970's
Both divisions continued to grow through this decade. The Sadlier family bought into the Gore operation with Eoin managing the branch. Separate motor vehicle premises were built in Hokonui Drive, Gore.
1980's
After twenty five years together the two major shareholders, Abbey Jones and Jack Johnstone, decided the timing was right to split the company. The Johnstone family took over the motor vehicle side and the Jones and Sadlier families continued with the tractor and farm machinery operations.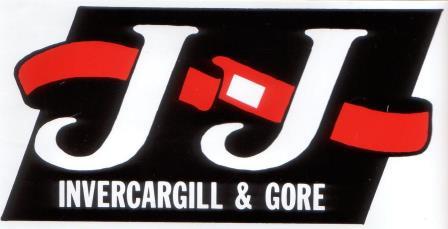 1990's
Was a rather unsettled decade with many changes of importers taking place in New Zealand but JJ Ltd continued on with the product ranges that were so important to them to fill the requirements of their valued client base.

2000's
July 2001 the opportunity arose for JJ Ltd to start a third branch to extend their sales and services into the Otago province, and the Mosgiel branch was set up. 2008 was a celebration year for JJ Ltd and Massey Ferguson as they both achieved their fifty years of operation.
In April 2009 yet another opportunity arose for JJ Ltd to extend into the Canterbury area to represent both the AGCO and Lely product ranges. The Christchurch branch was set up at 36 Hickory Place, Hornby, facing the Main South Road. A small parts and service operation was set up at 9A McGregor Lane, Ashburton as a subsidiary of Christchurch and a sales, parts and service subsidiary of Mosgiel was set up at 35 Laughton Street, Washdyke, Timaru.
2010's
After extensive alterations the Christchurch building was opened in June 2010, and the temporary inadequate offices were removed.
In June 2013 the South Canterbury premises at 280 Hilton Highway, Washdyke, Timaru was officially opened after major building alterations were completed.
May 2015 saw the Ashburton satellite become a stand-alone branch and eventually move to larger premises at 135 Alford Forestt Road.
With a philosophy that demonstrates an equal dependence from both the farming community on JJ Ltd and JJ Ltd on the farming community, the company has created a reputation for selling quality products and service with a consumer's needs strongly in mind.
These attitudes have seen JJ Ltd succeed as a South Island owned and operated business.

2018
JJ's has been the home of Massey Ferguson since its inception and introduction to New Zealand in 1958, and in 2018 both marques celebrate their 60th anniversary.
JJ's now have more than 100 full-time staff throughout the South Island - with the average length of service from the team being over ten years, it is obvious that JJ's generates loyalty not only with its customers, but with its staff as well.
After three generations of the Jones family, two generations of the Sadlier family, and six decades, it's personal for the JJ's team.
2023 and on...
JJ's is proud to be a thriving business after 65 years servicing our rural communities. We have grown a lot over time and our success is due to the great customers and long serving staff. Several members of the company have been a part of the team for more than 20 years. The journey to 65 years has been a real pleasure for us and we look forward to another 65 years ahead and future generations taking the lead someday.